Curious how the housing market is performing along Florida's Gulf Coast? Here is everything you need to know about Manatee, Charlotte, or Sarasota real estate from the first quarter of 2017.
As a region, we saw a significant increase in homes for sale (also known as inventory). Going up nearly 11%, that's an additional 1,200 properties for buyers to choose from.  This represents a significant increase and would indicate that we are moving toward a buyer's market where there is increased inventory yet demand is stable, not increasing.
But if you look more closely, Sarasota County is actually higher than the region's average with a 15.73% increase in inventory, Manatee County saw an 8.29% increase, but Charlotte County only saw a 4.65% increase.  That means sellers in Charlotte County still have a slight advantage compared to their neighbors to the north to receive multiple offers closer to asking price.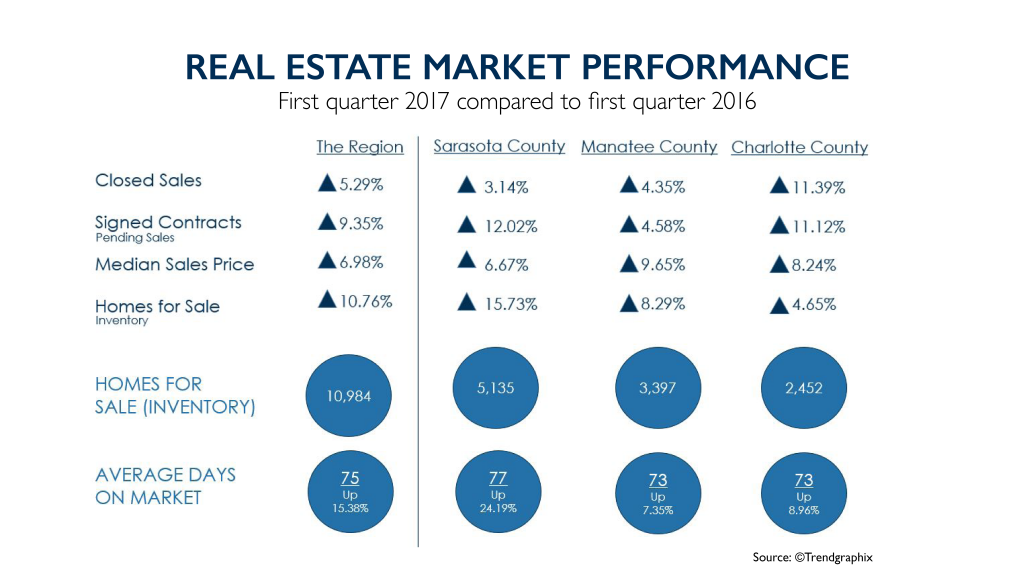 Sarasota County Buyers and Sellers
In the first quarter of 2017, there is more inventory to choose from – with over 5,000 homes on the market.  This has pushed the average days on market up 24% over last year, therefore sellers will need to be more patient, expect a bit more time to sell their home, and be competitively priced.  Buyers have more choices, making it more important to use an experienced Realtor® to help them narrow down their search. This is still considered a very balanced market with a strong inventory base and consistent buyer demand, making for an ideal time to buy or sell a home in Sarasota.  It is a change over the past two years however, therefore consumers shouldn't expect the same frenzy that occurred in 2014, 2015 or early 2016.  The market has stabilized and consumers are strategically planning their next move.
Manatee County Buyers and Sellers
Among the three counties, Manatee saw the most significant increase in median sales price with a 9.65% bump.  Inventory saw increases as well – which means there are more homes to choose from, but also at a higher cost.  This has slowed the market down resulting in only slight increases for signed contracts and closed sales in the first quarter.  The increase in median price is a factor of the new construction inventory hitting the market in Lakewood Ranch – the eastern-most part of Manatee County.  New product commands higher prices and causes significant competition for existing inventory.  It is imperative to work with an experienced Realtor® when selling your home in a highly competitive market to ensure your home is priced right for the competitive product set.  It's important for buyers to understand their options and have an advocate on their side if they choose new construction- taking in to consideration future resale as well.
Charlotte County Buyers and Sellers
Buyer demand is high in Charlotte County – seeing the largest percentage increase in closed sales at 11.39% in the first quarter.  Median sales prices have seen a steady increase at 8.24% and with only a slight increase in inventory, it continues to push signed contracts up and average days on market below the region average. Consumers should prepare themselves to experience multiple-offer situations, competitive bidding situations, and tougher negotiations – making it even more important to work with an experienced agent in the local market.
Luxury
Looking at the numbers, sales in luxury real estate are up 18.3% over the same quarter last year, however the average sold price is down over 4%. For sellers, working with a local expert to determine an informed pricing strategy is crucial to meeting the current buyer mindset.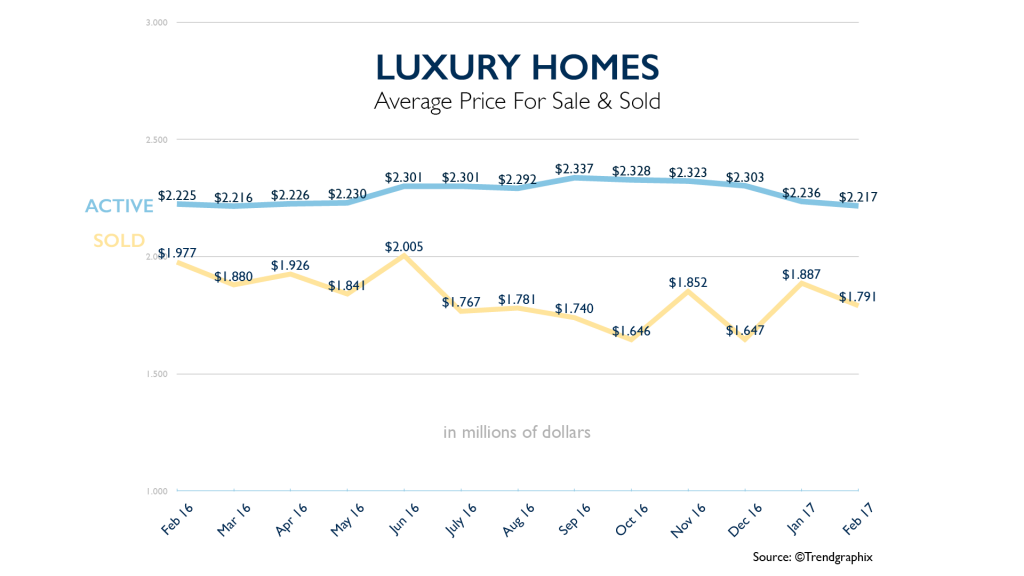 While all of this information is useful as a region, we know market trends are even more "local" when you narrow down to a specific area, neighborhood and price point.  To gain more information about your specific situation, contact Tina Ciaccio, Christie's International Luxury Real Estate Specialist for Michael Saunders & Company.