Fort Hamer Bridge Inches Closer to Completion
Construction of the Fort Hamer Bridge is approximately 81% complete and extends over 1,850 feet from the edge of the north side of the Manatee River, which includes the length of the beams.  All of the test piles are complete and crews recently completed the construction of pier 5, and are currently constructing pier 4.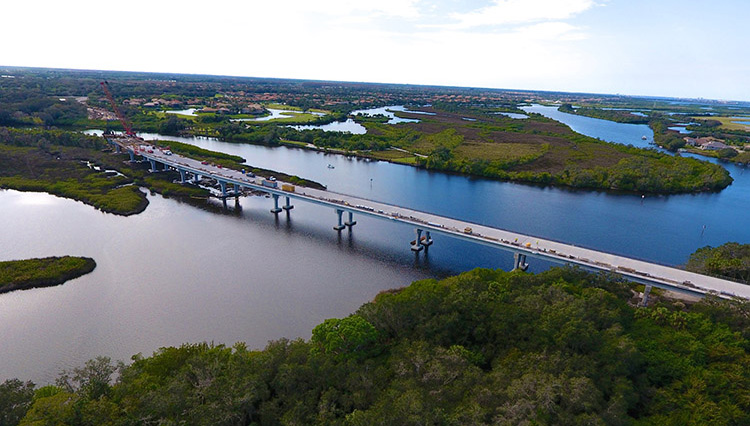 The end pier on the south side of the river is complete and pier 2 is at 85% completion.  The road that leads to the southern approach is anticipated to be complete in June. The Material Stabilized Earth (MSE) wall is complete.
With the completion of piers 2, 3 and 4 and five more spans, the bridge will connect with the southern section of the bridge on the UMRR side. This is anticipated to take place in July.
Completion of all three projects, Fort Hamer Bridge, Fort Hamer Road and Upper Manatee River Road is anticipated to take place late Summer 2017.
Below are the activities scheduled to take place over the next several weeks.
Fort Hamer Bridge:
Ongoing construction of piers: driving the piles, constructing the substructure, installing the columns and caps, and setting the beams
Pouring the concrete decks (spans)
Constructing the new road leading to the southern approach to the bridge
Fort Hamer Road and Upper Manatee River Road:
Punch list items
The final layer of asphalt is anticipated to be placed during July/August 2017